#3 Development: from an idea to an innovative application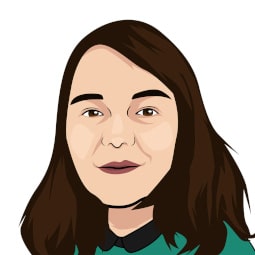 Elisa Rass, Junior Net developer of Linc Technology Partner, brings us into her project: the development of an innovative application. We will discover how Elisa, the rest of her team and their client have succeeded in developing an idea into an application that aims to facilitate Luxembourg employees' tax, wealth and legal procedures.
Elisa, what was your role in this development project?
In the development of the application, on the Back-End side, (coded part that is not visible to users/customers), I had to develop the administrator part for our client so that he could set up all the tax fields necessary for the application to work.
On the Front-End side (what is displayed on the screen for users/customers) I had to manage the graphical integration of the application. On the one hand, to format the administrator part for our client in order to improve his comfort. On the other hand, organize the ergonomics of the site and the application for the end user, since it is with these elements that the latter will be able to complete a tax return adapted to its profile.
How long did it take your team to complete the development of the application?
The development of the application took about a year to complete. We were 4 developers, our manager and our client on this project and I am proud to see how far we have come.
This time was necessary, we organized many workshops and brainstorming in order to understand exactly the needs, desires and demands of our client. In addition, as we aspire to create a real climate of trust between our client and the team, these meetings have allowed our client to redefine his needs and move forward "step by step" with us.
What new techniques did you learn during this development project?
I would say that this development has mainly allowed me to deepen my skills and to be more comfortable in graphic integration. Furthermore, I have continued to learn in.net since there are new tricks to know every day.
I also understood the need to use the stored procedures, i.e. the ease of retrieving data by reducing the number of calls to the database. As a result, I was able to save time, especially on development, but also on the time it takes to load data and pages for our client or end users.
What are your future professional ambitions?
My short-term ambitions are first of all to develop skills in the handling of several Frameworks. On the Front-End side, I would like to be able to become more efficient in graphic integration in order to help other developers.
In the long term, I would like to become technically stronger on the back-end side but also in leadership so that I can eventually take on the role of project manager.
If you would like toknow more about the project part of Linc Technology Partner or if you would like to develop your web site/application, please do not hesitate to visit us :Technology Partner
Written by Charline Pennisi
Published on 21/12/2018